What are roots causes of acne? How can you finally get the clear skin you want and say bye-bye acne?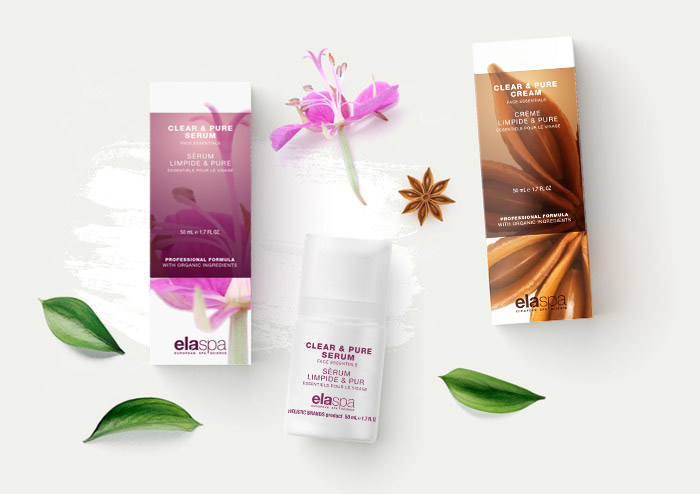 How to care for acne prone skin?
Discover products to properly care for

acne skin
Improve the appearance of your skin with our powerful super-ingredients and formulas. Our advanced, clinically-proven and fast-active solutions, deliver visible and experiential results so you can love your #healthyskin!
We have listed here the key products in order of importance so you can achieve optimal results quickly.
+ Deliver Active Ingredients
This unique formula crafted for acne-prone skin, including adult acne, is infused with rare shikimic acid, a powerful AHA, to mattify skin and reduce shine, without irritation. Its superior blend of active ingredients slips into pores to rejuvenate photo-damaged skin, banish blemishes, and leave skin radiantly bright. Enriched with Azelaic Acid extract, each use reveals clear, youthful skin while nourishing for perfect hydration and a silky smooth complexion.
This light serum was crafted specifically for acne-prone skin, including adult acne to help clarify and clear while combatting dryness. This powerful formula slips into pores to reduce redness, condition the skin, accelerate exfoliation, and powerfully purify to reduce oiliness and shine. Skin is left fresh, smooth and perfectly hydrated.
Uniquely formulated for oily and acne prone skin, this soothing toner reduces irritation while cleansing impurities to leave skin refreshed, revitalized, and clear. Infused with natural betaine, each use nourishes and quenches skin to reveal a hydrated, silky smooth complexion.
optimal facial cleanser – This calming and gentle cleansing formula is ideal for all skin types. Infused with natural botanical extracts, each use whisks away dead skin cells, makeup and other impurities that can clog pores, without irritation to support the integrity of skin's natural barrier and protect against dryness. eye makeup remover – This gentle yet effective eye makeup remover whisks away even waterproof makeup and mascara, without irritating the delicate skin of the eye area, and is safe to use with false lashes. Hydriol PGCL, derived from grape seed oil, perfectly cleanses to leave eyes makeup-free, while hydrating and soothing.
gentle bamboo exfoliator – Smooth and refine skin texture with this gentle bamboo formula. The super soft and smooth treatment is suitable for all skin types and gently yet thoroughly buffs away the dead surface cells that leave skin dull to reveal a fresh, glowing complexion. The formula's unique blend of botanical extracts go to work to spark skin cell rejuvenation, improve texture, and diminish irritation and leaves skin soft and refreshed. peeling gel – This multi-tasking gel with AHA acids will go to work peeling and refining your skin for immediate results. A youthful, brighter, and refreshed complexion is revealed without irritation.
Infused with gentle enzymes derived from grapefruit and pineapple, this potent toner dissolves dead skin cells to reveal softer, smoother skin and a healthy, luminous glow, without irritation. Perfect for all skin types, including sensitive skin.
DO YOU WANT TO LEARN MORE ABOUT HOW TO CARE FOR YOUR SKIN ?
See our "HEALTHY SKIN ROUTINE" where you will learn how to care for your skin in the morning and evening as well as the order to use each product for the fast, visible results.
ENHANCE THE RESULTS WITH THESE PRODUCTS
This uniquely formulated cream for normal to oily skin types is infused with pure Lactobionic Acid for a powerful anti-aging and brightening effect. Naturally hydrating and exfoliating, the potent, yet gentle, cream slips into pores to restore a healthy, even complexion while fading acne marks. The unique formula is crafted to combat the signs of aging and provide instant luminosity, without irritating skin.
Light and fast-absorbing, this cream is crafted to protect skin from the damage caused by UV rays. The daily sunscreen provides sheer coverage to aid in the prevention of free radical and oxidative damage along with gentle hydration, without any white residue or greasiness.