What are the characteristics of combination skin? What are the causes? And how do you properly care for it?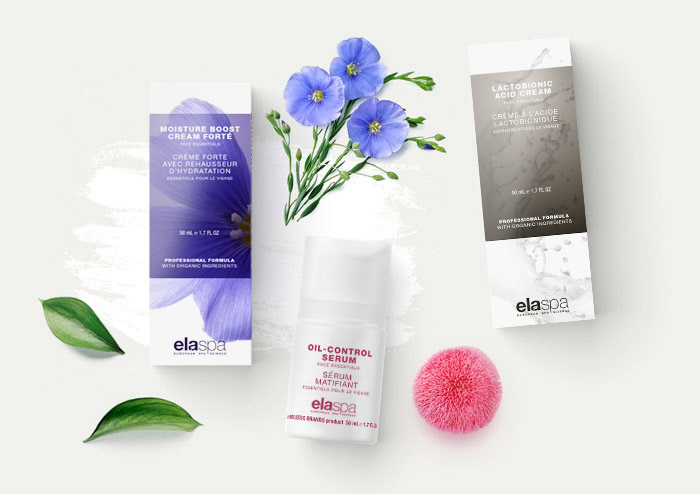 AVOID THESE COMMON MISTAKES WHEN CARING FOR COMBINATION SKIN
Discover fast-acting products for

combination skin
Our line has an extensive selection of products tested by in- dependent labs to deliver visible and experiential results. Here is a list of the key products in order of importance that you can use to quickly achieve optimal results and see healthy, clear, vibrant skin.
+ Deliver Active Ingredients
The Lactobionic Acid Cream should be used in the evening to deliver stunning results. Its active ingredients gently exfo- liate the dead skin layer, revealing fresh, healthy skin while deeply hydrating and and diminishing skin imperfections, in- cluding uneven skin tone and dark marks caused by acne. Using Oil Control Cream Forte in the morning, with its light consistency, works to balance skin oils while moisturizing the skin, strengthening its protective barrier, restoring a bright and radiant complexion, and reducing signs of fatigue and premature aging. Crodamol Isis and hyaluronic acid prevent trans-epidermal water loss by binding it to retain hy- dration in the deepest layers of your skin.
Combination skin is characterized by an oily "T" zone and a dry "U" zone. This means that you need to use two types of serum in your daily care. Use Oil Control Serum on your "T" zone area to minimize excessive sebum secretion and en- larged pores, and on the "U" zone, apply Moisture Boost Serum to prevent excessive water loss, while rejuvenating the skin. Both the serum and the cream deliver valuable ac- tive ingredients, but the serum has a higher concentration of active substances and is richer in various compounds that allow it to act on many levels to improve the look and feel of your skin. After serum application it is important to apply a cream which will enhance its results and protect your skin. Moisture Boost Cream Forte and Oil Control Cream Forte can be used on combination skin interchangeably.
optimal facial cleanser – This calming and gentle cleansing formula is ideal for all skin types. Infused with natural botanical extracts, each use whisks away dead skin cells, makeup and other impurities that can clog pores, without irritation to support the integrity of skin's natural barrier and protect against dryness. eye makeup remover – This gentle yet effective eye makeup remover whisks away even waterproof makeup and mascara, without irritating the delicate skin of the eye area, and is safe to use with false lashes. Hydriol PGCL, derived from grape seed oil, perfectly cleanses to leave eyes makeup-free, while hydrating and soothing.
Combination skin, just like any other skin type, needs exfoli- ation to look healthy and vibrant. The Peeling Gel is a unique plant formula that cleanses your skin, locking in nat- ural hydration without zero irritation. Your skin is smoothed, plumped, and infinitely nourished and excessive shine and enlarged pores are minimized. Using this gel twice each week, allows your skin to receive the active ingredients con- tained in serums and creams, enhancing the results of your daily routine.
The use of a toner is important for all skin types to restore the neutral pH of the skin and strengthen and improve its hydro-lipid layer, which is responsible for protecting the skin against adverse external factors and excessive drying. Us- ing a toner also significantly boosts the penetration of the active ingredients in your other skincare products. The Oil Control Toner is specifically formulated for oily and combination skin to mattify, calm skin irritation and reduce the formation of new blackheads. It also works to powerfully rejuvenate and soothe the skin, while forming a protective layer against external forces that damage your skin.
DO YOU WANT TO LEARN MORE ABOUT HOW TO CARE FOR YOUR SKIN?
See our "HEALTHY SKIN ROUTINE" where you will learn how to care for your skin in the morning and evening as well as the order to use each product for the fast, visible results.
This light formula balances oil production to eliminate shine, while minimizing the appearance of enlarged pores. Infused with rare botanical extracts, each use purifies and diminishes the first signs of aging while providing long-lasting hydration to quench skin.
Light and fast-absorbing, this cream is crafted to protect skin from the damage caused by UV rays. The daily sunscreen provides sheer coverage to aid in the prevention of free radical and oxidative damage along with gentle hydration, without any white residue or greasiness.
If you don't know where to start, choose our elaspa Combination Skin Set with Op- timal Facial Cleanser, Oil Control Toner and Lactobionic Acid Cream. These three products will deliver superb results in just a couple of weeks. When you feel your skin is ready for more, try introducing Oil Control Serum or Moisture Boost Serum and a Peeling Gel into your daily routine.