YOUR HEALTHY
SKIN ROUTINE
If you don't know when to use a serum or a cream, or if you're unsure if you should be using a toner or an exfoliator, or both, check out our elaspa daily skin regimen. This healthy skin routine is surprisingly simple, but is expertly designed by our skincare experts to deliver transformative results! Essentials to start with include a cleanser, toner and a face cream. Over time you can add more products to address your specific skincare concerns and achieve even more benefits for your skin.
The basis of a proper skin regimen begins with cleansing your skin twice daily. In the evening, this removes the makeup, dirt and impurities from the environment, including pollutants that buildup throughout the day, clogging your pores and leading to breakouts. In the morning, your goal is to remove excess oils.
Applying a toner immediately after cleansing restores your skin's neutral pH to properly protect it against the aging process helps to ensure your pores are open so that the actives in your cream and serum deeply penetrate into your skin.
+ DELIVER ACTIVE INGREDIENTS
Use a serum and a cream on toned skin to deliver necessary active ingredients, intensely moisturize and nourish and protect your skin from external factors. elaspa creams and serums are designed to work in synergy and can be mixed depending on your skin's needs.
When properly selected, an exfoliator works to whisk away dead cells and increase the absorption of the valuable active ingredients in your skincare products. Use mechanical or enzymatic exfoliation (depending on your skin type) 1-2 times per week to smooth your skin, even your complexion, and give it a radiant glow.
The regular use of masks is an important tool to prevent the visible signs of aging, balance inflammation, calm redness, increase the absorption of active ingredients and stimulate the rejuvenation process. This step elevates your daily routine by providing by enveloping your skin in highly concentrated active ingredients. It's like a mini facial!
One of the most significant factors in aging skin is sun exposure. To slow this process, ward off age spots, fine lines, and wrinkles and combat discoloration, you must use daily SPF protection. Apply sunscreen each morning or use a foundation infused with a high SPF level.
HERE IS A SIMPLE DIAGRAM ILLUSTRATING A PROPER MORNING AND NIGHT ROUTINE TO CARE FOR YOUR SKIN
This is a general guideline and may need to be adapted to address your specific skin issues and achieve your goals. Our experts will be happy to help you!
morning: cleansing, toning, serum, cream and spf
evening: removing makeup, cleansing, exfoliating (2- 3 x week), toning, serum, mask (1-x  x week), moisturizer
This is a general guideline and may need to be adapted to address your specific skin issues and achieve your goals. Our experts will be happy to help you! Contact us at expert@ela-spa.com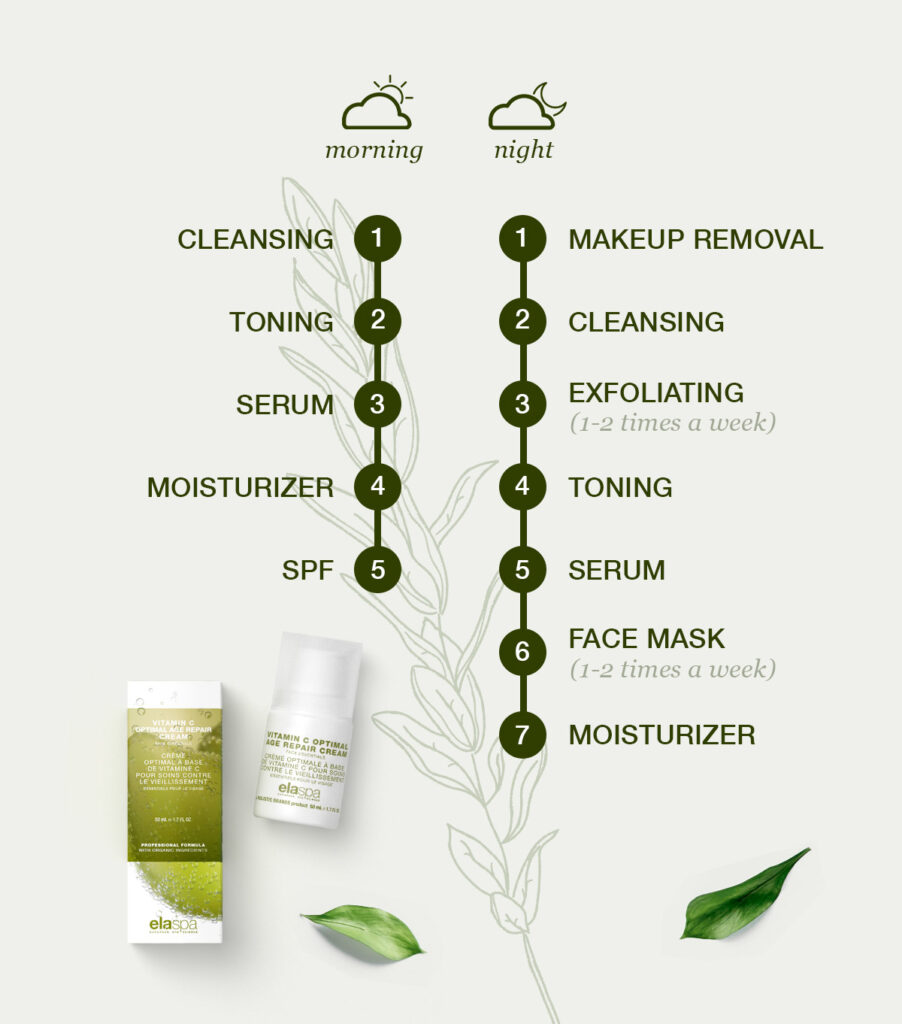 If you don't know where to start, we make it easy with our elaspa sets. Each set contains 3 basic products to help you begin your skincare transformation journey including: Optimal Facial Cleanser, a peeling gel or a mask, and a selected cream forte. When you feel your skin is ready for more, you can introduce regular exfoliation as well as a serum and a Rejuvenating Stem Cell Mask.